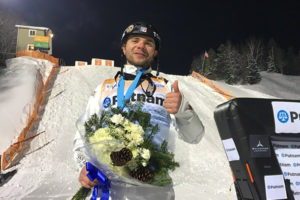 Olivier Rochon of Gatineau, Quebec won a World Cup bronze medal in men's aerials on Friday from Lake Placid, New York. For Rochon it is his eighth World Cup medal and first since February 4, 2016 when he won a silver medal in Deer Valley, Utah.
Rochon posted a score of 120.24 points. Zongyang Jia of China won the gold medal with 126.99 points. Oleksandr Abramenko of Ukraine won the silver medal with 123.45 points.
Rochon reached the podium rather easily. He had 23.74 more points than Xindi Wang of China, who finished in fourth place with a score of 96.5 points.
With the bronze medal, Rochon is now in 10th place in the World Cup men's aerials standings with 128 points. Jia is the leader with 315 points. There is one more World Cup men's aerials competition this season. That will take place in Lake Placid on Saturday night.
Rochon was unable to compete at the 2014 Olympic Winter Games in Sochi because of a knee injury and missed out in qualifying for the 2010 Olympic Winter Games in Vancouver by a single point. Now Rochon will try to capture Canada's first Olympic medal in aerials since the 2002 Olympic Winter Games in Salt Lake City. That year two Canadians reached the podium– Veronica Brenner of Scarborough, Ontario won the silver medal and Deidra Dionne of North Battleford, Saskatchewan won the bronze medal.