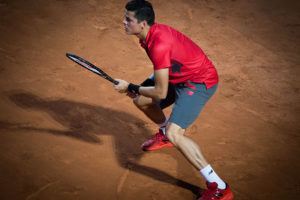 Milos Raonic did not have the 2018 Australian Open in Melbourne he would have liked this week. In the first round, he lost to Lukas Lacko of Slovakia 6-7, 7-5, 6-4, 7-6. Lacko then went on to lose in four sets in the second round to Nicolas Kicker of Argentina, 6-2, 7-5, 1-6, 7-5.
Raonic is obviously disappointed in losing to Lacko, who is ranked 86th in the world and had a career record of 85-128 prior to playing in Melbourne. However one encouraging sign for Raonic is that it appears he was not suffering from any ailment during or after the match. Quite simply, he was just not in game shape as he has only played once on the ATP Tour since October prior to his first round exit. Raonic's timing was simply off. That was evident with the high number of unforced errors. That can be corrected with playing time.
In order for Raonic to get into better game shape, there is no better time for him than now to represent Canada in the Davis Cup. Canada is playing this year in Osijek, Croatia from February 2-4. Raonic is healthy and has more experience on clay than any other Canadian tennis player at the moment. In the past Raonic has reached the quarterfinals of the French Open, the semifinals of the Italian Open, the finals of the Istanbul Open, the quarterfinals of the Monte Carlo Masters thrice and the quarterfinals of the Madrid Open twice.