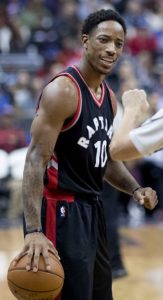 Toronto Raptors shooting guard DeMar DeRozan will start in the 2018 NBA All-Star Game at the Staples Center in Los Angeles. He will play alongside LeBron James of the Cleveland Cavaliers, Kyrie Irving of the Boston Celtics, Joel Embiid of the Philadelphia 76ers and Giannis Antetokounmpo of the Milwaukee Bucks.
It has been quite the season so far for DeRozan. He is averaging 25.1 points per game, has a .480 field goal percentage, .822 field goal percentage and a career high in three point percentage at .348.
Three times this season DeRozan has been the NBA player of the week, and on New Year's Day, DeRozan set a Raptors record for most points in a game with 52 in a 131-127 win over the Milwaukee Bucks. It was one of three times this season that DeRozan has reached the 40 point plateau.
A major reason why DeRozan deserves the accolades he has received to date is because the Raptors are winning. Toronto is currently in second place in the Eastern Conference at 31-13. They are two games back of the conference leading Boston Celtics. They also have the fourth best record in the NBA, only behind the Celtics, Golden State Warriors (37-9) and the Houston Rockets (31-12).
What Raptors fans know it is not always what you do in the regular season. It is what you do in the playoffs that matters. The Raptors are close to making some noise in the postseason, but unless they reach the Eastern Conference Final or beyond, this season will be considered a minor disappointment.