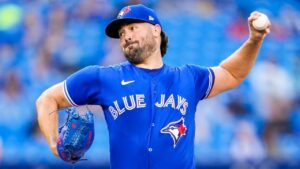 Robbie Ray of Brentwood, Tennessee won the American League Cy Young Award on Wednesday, and in the process became the fourth Blue Jays pitcher in franchise history to accomplish the feat. He follows Pat Hentgen (1996), Roger Clemens (1997 and 1998), and Roy Halladay (2003).
In 2021, Ray posted a record of only 13 wins and seven losses, but led the American League with a 2.84 earned run average and a 1.05 WHIP (walks and hits per innings pitched), and Major League Baseball with 248 strikeouts.
The fact that Ray was even in the conversation this year for the American League Cy Young Award is a testament to Blue Jays pitching coach Pete Walker. After a horrendous 2020 Major League Baseball season where Ray had an earned run average of 6.62 in a dozen appearances with the Blue Jays and Arizona Diamondbacks, Walker was able to tweak Ray's mechanics, and help him become one of the best pitchers in the game today.
A big reason for Ray's improvement was his control. He led Major League Baseball with 45 walks in 2020. Yes, Ray had 52 walks in 2021, but one must realize he threw 51 2/3 innings in 2020, compared to an American League leading 193 1/3 innings in 2021.
There are genuine concerns that Ray will not return to the Blue Jays in 2022. That is because Toronto signed Jose Berrios to a seven-year extension worth $131 million on Tuesday. They also have starting pitcher Hyun-Jin Ryu signed at two more years at $40 million per season. Can the Blue Jays afford a third starting pitcher who deserves a huge salary?
Meanwhile, Corbin Burnes of the Milwaukee Brewers won the National League Cy Young Award. Other award winners so far are Cincinnati Reds second baseman Jonathan India (National League rookie of the year), Tampa Bay Rays outfielder Randy Arozarena (American League rookie of the year), San Francisco Giants manager Gabe Kepler (National League manager of the year), and Rays manager Kevin Cash (American League manager of the year).