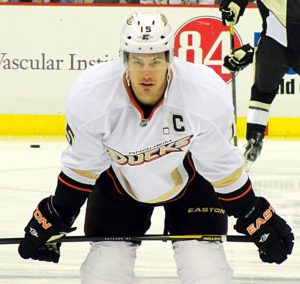 It was a memorable evening for Anaheim Ducks captain Ryan Getzlaf of Regina, Saskatchewan on Saturday. The veteran centre who is a two-time Canadian Olympic gold medalist (from the 2010 Olympic Winter Games in Vancouver and the 2014 Olympic Winter Games in Sochi), recorded his 1000th National Hockey League regular season point on Tuesday in a 3-2 Ducks win over the Washington Capitals at the Honda Center in Anaheim, California. Getzlaf now has 280 goals and 720 assists for 1000 points in 1118 games from 2005 to 2022.
Getzlaf's 1000th point came in the first period with an assist on a goal by Cam Fowler at 3:32 of the first period. Troy Terry picked up the other helper, which put the Ducks up 1-0 at the time.
All of Getzlaf's 1000 career regular season points have been with the Ducks. Remarkably, in an unbelievable degree of symmetry, Getzlaf's 1000th point came in the Ducks' 1000th win in franchise history as well. He became the 92nd player in NHL history to reach the milestone. Wayne Gretzky of Brantford, Ontario has the most points ever with 2857.
The Ducks meanwhile are red hot. They have now won eight straight games and are in first place in the Pacific Division with 23 points, one point up on the Edmonton Oilers, and two points up on the Calgary Flames.