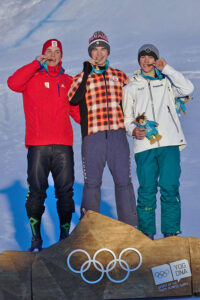 According to CBC Sports on Friday, Reece Howden of Cultus Lake, British Columbia, and Courtney Hoffos of Windermere, British Columbia each won World Cup ski cross medals in Reiteralm, Austria. Howden won a silver medal in the men's World Cup ski cross, and Hoffos won a bronze medal in the women's World Cup ski cross race.
Howden placed behind gold medalist Johannes Rohrweck of Austria, and ahead of bronze medalist Bastien Midol of France. Marc Bischofberger of Switzerland was the other freestyle skier who reached the big final.
Howden won all three of his races in Austria leading up to the final. It was the sixth World Cup medal of his career, and fifth this season. Howden previously won two gold medals in Idre, Sweden in January, a gold medal in Val Thorens, France on December 21, and a silver medal in Val Thorens, France on December 20.
Howden currently leads the World Cup men's ski cross standings with 550 points. He has 207 more points than Jonas Lenheer of Switzerland, who is second with 343 points.
Hoffos placed behind gold medalist Sandra Naeslund of Sweden, and silver medalist Fanny Smith of Switzerland. She beat Talina Gantenbein of Switzerland to reach the finish line in the Big Final. Hoffos also finished second, behind Naeslund in the quarterfinals and semifinals.
This was the fourth World Cup medal in Hoffoss's career, and first this season. She is currently seventh in the World Cup standings with 292 points. Smith leads with 665 points. The medals for Howden and Hoffos will give them confidence as they prepare for the 2022 Olympic Winter Games in Beijing.