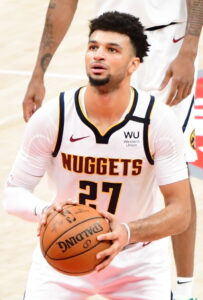 Jamal Murray of Kitchener, Ontario set the NBA regular season record on Friday for most points scored in a game by a Canadian according to the Associated Press. Murray scored 50 points as the Denver Nuggets defeated the Cleveland Cavaliers 120-103.
In 38 minutes and 15 seconds of action, Murray made 21 of 25 field goals, and eight of 10 three-point attempts. Murray's 50 point-game was also historic because he became the first player in NBA history to record 50 points without generating a single point on a free throw. Murray also had six rebounds, two assists, two steals, and was a +24.
It should be noted that Murray had two 50-point games in the 2020 NBA Playoffs against the Utah Jazz in Florida. The first came in a 129-127 Nuggets loss to the Jazz in game four of the series on August 23, and the second came in a 119-107 Nuggets win over the Jazz in game six of the series on August 30.
Murray had the old record for most points by a Canadian in a regular season game with 48 points. He achieved the mark with the Nuggets in a 115-107 Nuggets win over the Boston Celtics on November 5, 2018. It should be noted that Steve Nash of Victoria, British Columbia had 48 points in a 115-105 Phoenix Suns loss to the Dallas Mavericks on May 15, 2005, in game four of the Western Conference Semi-Finals.
With the win, the Nuggets improved to 16 wins and 13 losses. They are seventh in the Western Conference.