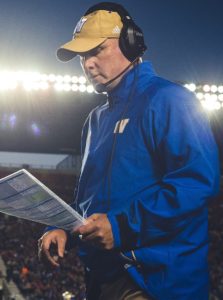 The Ottawa Redblacks of the Canadian Football League named Paul LaPolice of Nashua, New Hampshire their head coach on December 6. The Redblacks become the second team that LaPolice will be coaching in the CFL as he was with the Winnipeg Blue Bombers from 2010 to 2012.
While as the head coach for the Blue Bombers, LaPolice only had a record of 16 wins and 28 losses. In 2011 while with the Blue Bombers however, LaPolice took Winnipeg to the Grey Cup with a record of 10 wins and eight losses. Winnipeg reached the Grey Cup after a 52-44 win overtime win over the Montreal Alouettes in the Eastern Division Semifinal and a 19-3 win over the Hamilton Tiger-Cats in the Eastern Division Final. Then in the championship game, the Blue Bombers were beaten 34-23 by the British Columbia Lions.
LaPolice was a wide receiver at Plymouth State College in New Hampshire. After graduating with a degree in physical education, LaPolice became a coach at the American collegiate level. In 2000, he began working in the CFL. He was the quarterbacks, receivers coach and running back coach with the Toronto Argonauts in 2000 and 2001, the offensive co-ordinator, receivers coach and running backs coach with the Blue Bombers in 2002 and 2003, receivers coach with the Hamilton Tiger Cats in 2004 and 2005, receivers coach with the Argonauts in 2006, receivers coach with the Saskatchewan Roughriders in 2007, offensive co-ordinator with the Roughriders in 2008 and 2009 and then the offensive co-ordinator with the Blue Bombers from 2016-2019.
As an assistant coach, LaPolice won a Grey Cup with the Roughriders in 2007 and the Blue Bombers in 2019. In his three years not coaching in the CFL from 2013 to 2015, LaPolice was an analyst on TSN. LaPolice takes over a Redblacks team that had a record of three wins and 15 losses in 2019.