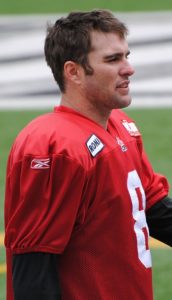 The Toronto Argonauts named Ryan Dinwiddie of Elk Grove, California as their head coach on Thursday. Dinwiddie replaces Corey Chamblin who was fired also on Thursday.
This will be Dinwiddie's first head coaching job in the Canadian Football League. He was previously the offensive quality control coach with the Montreal Alouettes from 2013 to 2014 and the quarterback coach with the Calgary Stampeders from 2016 to 2019. While with the Stampeders, Dinwiddie helped Calgary win the 2018 Grey Cup. At Commonwealth Stadium in Edmonton, Alberta, the Stampeders beat the Ottawa Redblacks 27-16.
As a player, Dinwiddie played five seasons in the CFL as a quarterback. He was with the Winnipeg Blue Bombers from 2006 to 2008 and was with the Roughriders in 2010 and 2011. Dinwiddie's best CFL season was with the Blue Bombers in 2008 when he completed 118 passes in 135 attempts for 1299 yards, five touchdowns and six interceptions. That season Dinwiddie also had 15 rushes for 101 yards and a touchdown.
While playing in the United States, Dinwiddie was also the most valuable player of the 2003 Fort Worth Bowl. Dinwiddie completed 19 of 35 passes for 325 yards, three touchdowns and two interceptions as the Boise State Broncos beat the Texas Christian University Horned Frogs 34-31. Then at the professional level, Dinwiddie was on the Chicago Bears practice roster in 2004 and 2005.
Dinwiddie takes over an Argonauts team that missed the playoffs in 2019. Toronto only won four games and lost 14 games.