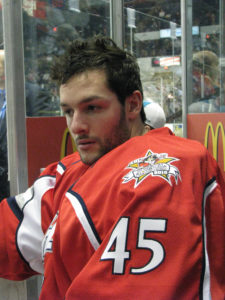 The Detroit Red Wings have traded goaltender Jonathan Bernier of Laval, Quebec to the Carolina Hurricanes on Thursday according to Justin Cuthbert of Yahoo! Sports. Bernier was traded alongside a third-round draft pick in the 2021 National Hockey League Entry Draft for goaltender Alex Nedeljkovic.
Bernier is joining his sixth National Hockey League team. In addition to the Red Wings, he has played with the Los Angeles Kings, Toronto Maple Leafs, Anaheim Ducks, and Colorado Avalanche.
Last season with the Red Wings, Bernier had a record of nine wins, 11 regulation losses, one loss in extra time, a goals against average of 2.99, and a save percentage of .914. The draft pick the Hurricanes are receiving is the 94th overall pick. The pick initially belonged to the Vegas Golden Knights, but went to Detroit when Vegas acquired Tomas Tatar from the Red Wings in 2018. Tatar is now with the Montreal Canadiens.
The Red Wings meanwhile are getting one of the young, rising goaltenders in the entire NHL. Nedeljkovic had a spectacular rookie season a year ago with the Hurricanes. In 23 games, he had a record of 15 wins, five regulation losses, three losses in extra time, a goals against average of 1.90, and a save percentage of .932.