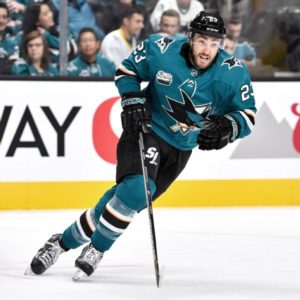 According to the Associated Press on Wednesday, the New York Rangers have signed right-winger Barclay Goodrow of Toronto, Ontario to a six-year contract worth $21.6 million. The Rangers become the third team Goodrow has played for. He previously played six seasons for the San Jose Sharks and two seasons with the Tampa Bay Lightning.
You might find it strange that Goodrow was able to sign with the Rangers before NHL free agency began. That is because he was traded from the Lightning to the Rangers on July 17 for the Rangers' seventh-round draft pick in the 2022 NHL Entry Draft.
Goodrow had won the Stanley Cup the last two seasons with Tampa Bay. In the Stanley Cup Playoffs in 2019 and 2020, Goodrow had three goals and nine assists for 12 points in 43 games. He was a +9 with 42 penalty minutes, one game-winning goal, 61 shots on goal, 145 faceoff wins, 44 blocked shots, 171 hits, 20 takeaways, and 17 giveaways. Goodrow's game-winning goal in the 2021 Stanley Cup Playoffs came in game one of the Central Divison Final, a 2-1 Lightning win over the Carolina Hurricanes.
Last season in 55 games with the Lightning, Goodrow had six goals and 14 assists for 20 points. He was also a +16 with 52 penalty minutes, one game-winning goal, 72 shots on goal, 162 faceoff wins, 27 blocked shots, 111 hits, 16 takeaways, and 12 giveaways.