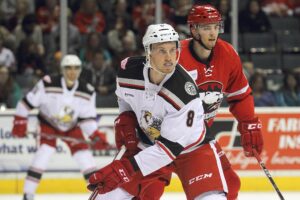 The Detroit Red Wings made a move to improve their future and present on Monday in trading right winger Anthony Mantha of Longueuil, Quebec to the Washington Capitals. In return, the Red Wings received a first-round draft pick in the 2021 National Hockey League Entry Draft, a second-round draft pick in the 2022 NHL Entry Draft, as well as forwards Jakub Vrana and Richard Panik according to Emily Kaplan of ESPN.
Mantha had 11 goals and 10 assists for 21 points in 42 games with the Red Wings this season. He was a -14 with 17 penalty minutes, two power play goals, 100 shots on goal, 15 faceoff wins, 20 blocked shots, 34 hits, six takeaways, and 19 giveaways.
At first glance, the analysis of the deal is rather simple. Mantha is a good hockey player, and has been for the Red Wings for quite some time.  But is he worth two high draft picks AND two regular NHL players who will be assets for the Red Wings right now? The answer is no. This seems to be a mighty impressive deal that Red Wings General Manager Steve Yzerman of Cranbrook, British Columbia has pulled off. The Detroit Free Press has already given Yzerman a well-deserved A+.
It should be noted that Jakub Vrana himself this season has more points than Mantha. He has 11 goals and 14 assists for 25 points. Meanwhile, Panik has three goals and six assists for nine points. It will now be interesting to see the two draft picks the Red Wings get from the deal as well.