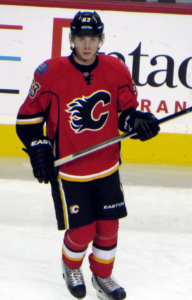 The Calgary Flames traded center Sam Bennett of Richmond Hill, Ontario to the Florida Panthers on Monday according to Brandon Maron of The Score. In addition to Bennett, the Panthers receive a sixth-round draft pick in the 2022 National Hockey League Entry Draft. The Flames meanwhile receive Swedish prospect Emil Heineman and a second-round draft pick in the 2022 National Hockey League Entry Draft.
Bennett has four goals and eight assists for 12 points in 38 games. He was a -14 with 19 penalty minutes, one game-winning goal, 67 shots on goal, 69 faceoff wins, 17 blocked shots, 79 hits, 15 takeaways, and 22 giveaways.
In 2020-21, Bennett had two multi-point games for the Flames. He had two assists in a 2-1 Flames win over the Montreal Canadiens on March 11, and then two assists again in a 5-0 Flames win over the Edmonton Oilers on April 10. Bennett scored his game-winning goal for the Flames in a 3-0 shutout win over the Toronto Maple Leafs on February 22.
A lot was expected from Bennett when he was drafted in the first round, fourth overall, in the 2014 NHL Entry Draft. However, one could argue he never really met expectations with the Flames. In his career, he only had 140 points in 402 games over seven seasons, and was a poor -67.
Bennett now joins a Panthers team that is third in the Central Division. At 56 points, Florida is two points back of the Tampa Bay Lightning and Carolina Hurricanes.