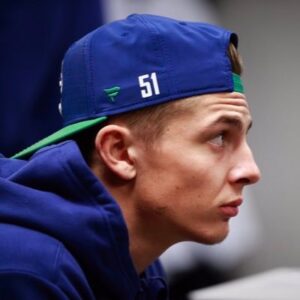 The Detroit Red Wings signed defenseman Troy Stecher of Richmond, British Columbia on Saturday to a two-year contract worth $3.4 million according to Rogers Sportsnet. The Red Wings become Stecher's second National Hockey League team as he played the last four seasons with the Vancouver Canucks.
In 69 games, Stecher had five goals and 12 assists for 17 points. He was a +10 with 32 penalty minutes, 86 shots on goal, 70 blocked shots, 69 hits, 16 takeaways, and 25 giveaways. Even though Stecher had nine more giveaways than takeaways in 2019-20, he did set a career-high in plus/minus.
Stecher also played his first 17 postseason games of his National Hockey League career with the Canucks in 2019-20. He had two goals and one assist for three points, was a very impressive +9, with 10 penalty minutes, two game winning goals, 21 shots on goal, 23 blocked shots, 24 hits, three takeaways and 10 giveaways. Vancouver beat the Minnesota Wild in four games in the qualifying round, then stunned the St. Louis Blues in six games in the Western Conference quarterfinals, before taking the Vegas Golden Knights the distance to seven games in the Western Conference semifinals. Both of Stecher's postseason game winning goals came against St. Louis.
The Red Wings have been very busy in the offseason. In addition to Stecher, they have come to terms with goaltender Thomas Greiss from the New York Islanders, and forwards Vladislav Namestnikov from the Colorado Avalanche, and Bobby Ryan from the Ottawa Senators.