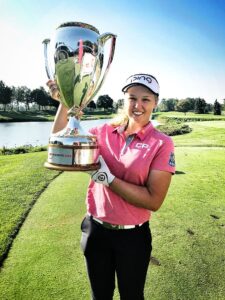 Brooke Henderson of Smiths Falls, Ontario is in contention after the third round of the 2020 Women's PGA Championship in Philadelphia, Pennsylvania on Saturday. While playing at the Aronimink Golf Club, Henderson shot a sizzling third round score of -5. As a result, she is currently tied for second place.
On Saturday, Henderson had five birdies and zero bogeys. She birdied the second, fourth, sixth, ninth, and 12th holes. All of Henderson's birdies came on par fours except the ninth hole, which came on a par five.
Henderson's score after 54 holes is also at -5, as she entered the third round at even par. Henderson jumped up 12 places in the standings as she entered the day in 14th place. Henderson's five-under-par 65 in the third round was also tied for the lowest score on Saturday. Bianca Pagdanganan of the Philippines also was at -5 on Saturday, as she moved up 19 spots from 24th to fifth place. Pagdanganan is four shots back at -3.
Henderson is trying to catch Sei Young Kim of South Korea, who is in the lead at -7. Henderson is tied for second place with Sweden's Anna Nordqvist. South Korea's Inbee Park is all alone in fourth place at -4.
Of the contenders, only Kim has not won the Women's PGA Championship in the past. Nordqvist won in 2009, Park won in 2013, 2014 and 2015, and Henderson won in 2016. Nordqvist has also won a second major title, the Evian Masters, in 2017. Park meanwhile has won four other major titles in her career. She won the U.S. Women's Open in 2008 and 2013, the ANA Inspiration in 2013,  and the Women's British Open in 2015.
Please note that even though Henderson and Kim are second and first respectively, they will not be in the final pairing on Sunday. Golfers that are currently tied 55th or worse will be golfing after Henderson, Kim and Nordqvist.