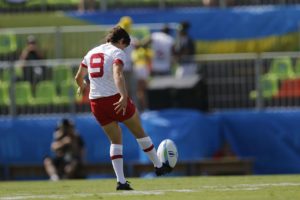 Team Canada has won their first women's rugby sevens World Series event of the 2018-19 season. On Sunday, Team Canada beat England 7-5 in the first place final at Mikuni World Stadium in Kitakyushu, Japan.
The lone Canadian try in this defensive-minded contest came from Ghislaine Landry of Toronto, Ontario. It came in the 16th minute. England's Amy Wilson Hardy also had a try in the game. However the difference was Landry was able to give Canada two more points because a successful conversion, while England missed their conversion attempt.
It was a perfect weekend for Team Canada as they won all six of their matches on the weekend. In pool B play, they defeated Spain 26-17, China 42-19 and Australia 17-14. In Canada's win over Spain, Canada had tries from Kaili Lukan of Barrie, Ontario, Charity Williams of Toronto, Ontario, Brittany Benn of Napanee, Ontario and Bianca Farella of Montreal, Quebec. Landry successfully kicked three of four conversions. In Canada's win over China, Canada had two tries each from Williams and Farella and one try each from Karen Paquin of Quebec City, Quebec and Keyara Wardley of Vulcan, Alberta. Landry and Breanne Nicholas of Bienheim, Ontario kicked three conversions each. In Canada's win over Australia, Canada had tries from Farella, Paquin and Lukan and one convert from Landry.
In the quarterfinals, Canada beat Russia 17-14 on tries from Landry, Paquin and Williams and one conversion from Landry. In the semifinals, Canada beat the United States 24-12 on two tries from Farella, one try each from Julia Greenshields of Sarnia, Ontario and Landry and two conversions from Landry. The United States won the bronze medal after beating France 36-12 in the third place game.
In the previous three women's rugby sevens World Series events this season, Canada won bronze in Glendale, Colorado, silver in Dubai and fifth in Sydney, Australia. In the overall standings, Canada is in second place with 66 points. They are six points behind New Zealand. Their next World Series event is in Langley, British Columbia.  The gold medal for Team Canada will give them confidence as they prepare for the 2020 Olympic Games in Tokyo.