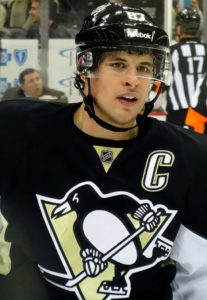 Canadian Olympic gold medalist Sidney Crosby of Cole Harbour, Nova Scotia may not be leading the Pittsburgh Penguins in points during the 2018 Stanley Cup Playoffs, but he is continuing to be an offensive difference maker every time he steps on the ice. In fact one could argue that Crosby, who is a two-time Conn Smythe Trophy winner over the last two seasons, is putting together the best postseason in 11 trips to the Stanley Cup Playoffs.
To date Crosby has 15 points in eight games. That is an average of 1.875 points per game. Crosby's previous high was 1.46 points per game in 2010 when he had 19 points in 13 games. That year the Penguins beat the Ottawa Senators 4-2 in the Eastern Conference quarterfinals, but then lost 4-3 to the Montreal Canadiens in the Eastern Conference semifinals.
On Thursday, in game one of the second round playoff series with the Washington Capitals, Crosby had one goal and one assist in a 3-2 Pittsburgh win. Crosby tied the game at two goals apiece at 5:20 of the third period from Jake Guentzel and Patric Hornqvist and then got an assist on the game winning goal by Guentzel just over two minutes later at 7:48 of the third period. Guentzel meanwhile leads the Penguins with 17 playoff points.
The Capitals meanwhile tied the series at one game apiece on Sunday with a 4-1 victory. Game three is Tuesday in Pittsburgh.