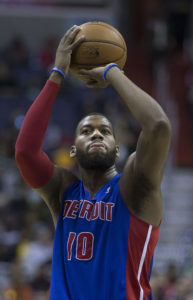 The Toronto Raptors have signed center Greg Monroe of New Orleans, Louisiana to a two year contract. The terms of the deal on Monday are for one year and $2.2 million.
Monroe will be joining his fifth NBA team. He has previously played for the Detroit Pistons, Milwaukee Bucks, Phoenix Suns and Boston Celtics. Last season he played for the Bucks, Suns and Celtics.
In 51 games, Monroe averaged 10.3 points, 6.9 rebounds and 2.2 assists. He had a field goal percentage of .565 and a free throw percentage of .739.
The Raptors will be using Monroe mostly as a depth player, a lot like Jakob Poeltl was used by the Raptors a season ago. Poeltl was traded with DeMar DeRozan and a first round pick in the 2019 National Basketball Association Draft for Kawhi Leonard and Danny Green on July 18. The trade could be considered one of the most monumental in the history of the Raptors franchise.
The Raptors will hope that Monroe, like Leonard, will be healthy for an entire season. He missed some time last season with a calf injury.
Monroe did have a significant impact in many games he did play last year. He reached double digits in scoring in 24 games including a season high 22 points in a 113-107 Suns loss to the Milwaukee Bucks on November 22. Monroe also became the first Celtics center to record a triple double since Robert Parish in 1987. Monroe had 19 points, 11 rebounds and 10 assists in a 111-104 win over the Chicago Bulls on April 6.