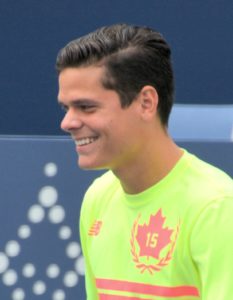 Two Canadians advanced to the second round of the 2018 Rogers Cup in Toronto, Ontario on Monday. Milos Raonic of Thornhill, Ontario beat 10th seeded David Goffin of Belgium convincingly 6-3, 6-4 and Peter Polansky of Toronto, Ontario defeated Matthew Ebden of Australia 7-6, 6-4.
Raonic's first serve percentage was only 60%, but of those first serves he got into play, he won 100% of those points. Raonic broke Goffin once in each set and had 11 more aces (13 compared to Goffin's two) in the match.
The last time Raonic played Goffin was at the 2017 Madrid Masters where Goffin beat Raonic 6-4, 6-2 in the round of 16. However one must remember that match took place on clay. With Monday's match taking place on the hardcourt, Raonic should have been considered the slight favourite, even though Goffin was ranked and Raonic was not.
Polansky meanwhile won his third match on the ATP Tour of 2018. He previously beat Marius Copil of Romania 7-6, 6-7, 7-6 in the first round of Indian Wells and Daniel Elahl Galan of Colombia 6-4, 3-6, 6-2 in the first round of last week's ATP Tour event in Los Cabos, Mexico. In Polansky's win over Ebden, the only break came in the final game of the match. Ebden previously beat Polansky 0-6, 6-4, 6-3 in the first round of the 2012 Rogers Cup.
This is the sixth time in Polansky's career he has reached the second round of the Rogers Cup. He has previously beaten Bruno Agostinelli of Niagara Falls, Ontario in 2009 (6-3, 7-6), 2010 French Open semifinalist Jurgen Melzer of Austria in 2010 (7-6, 6-4), 2013 Wimbledon semifinalist Jerzy Janowicz of Poland in 2014 (7-6, 6-4), Tim Smyczek of the United States in 2016 (4-6, 6-3, 6-0) and Vasek Pospisil of Vernon, British Columbia in 2017 (7-5, 6-2).