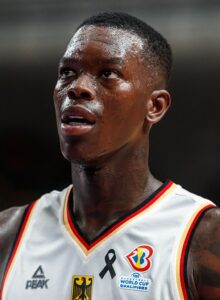 According to Adam Laskaris of Daily Hive, the Toronto Raptors have signed guard Dennis Schroder of Braunschweig, Germany. The contract is for two years and worth $26 million.
The Raptors will be the sixth team in the National Basketball Association that Schroder has played for. He was previously with the Atlanta Hawks (2013 to 2018), the Oklahoma City Thunder (2018 to 2020), the Los Angeles Lakers (2020 to 2021 and 2022 to 2023), and the Boston Celtics and Houston Rockets who Schroder spent his 2021 to 2022 season with.
In 2022-23, Schroder averaged 12.6 points per game, 4.5 assists per game, and 2.5 rebounds per game. He had a field goal percentage of .415, a three-point percentage of .329, and a free throw percentage of .857.
Schroder's finest game last season came in a 112-109 Lakers win over the eventual NBA finalists Miami Heat on January 4. He scored a game-high 32 points including 12 free throws. The most points Schroder has ever scored in a single game was 41, and that came in a 99-94 Atlanta Hawks win over the Utah Jazz on March 20, 2018.
Also on Friday, the Raptors said farewell to point guard Fred VanVleet. An integral member of the Raptors's team that won the 2019 NBA Finals, VanVleet signed a three-year contract worth $130 million with the Houston Rockets. You could make the argument that VanVleet is one of the best undrafted players in NBA history, and one must remember that VanVleet got Hubie Brown's vote as the most valuable player of the 2019 NBA Finals.