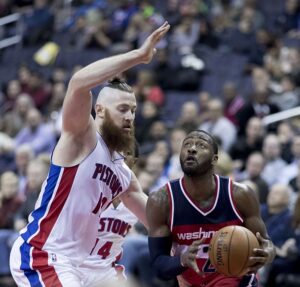 The Toronto Raptors made an effort to get a little bigger on Sunday by signing center Aron Baynes from the Phoenix Suns according to William Lou of Yahoo! Sports. The acquisition of Baynes of Gisborne, New Zealand, (6'10", 260 pounds), comes at a time when the Raptors were in need of a big man. That is because they lost Serge Ibaka to the Los Angeles Clippers and Marc Gasol of the Los Angeles Lakers in National Basketball Association free agency.
Baynes, who represents Australia internationally as he was raised there, will now be joining his fifth NBA team. In addition to the Suns, he has played with the San Antonio Spurs, Detroit Pistons, and Boston Celtics. In 2014, Baynes won the NBA Finals with the Spurs. Interestingly, he was a teammate of former Raptors star Kawhi Leonard in San Antonio that season.
In 2019-20, Baynes set a career-high with 11.5 points per game. He also had career-highs in rebounds per game (5.6), assists per game (1.6), and three-point percentage (.351). Baynes had a field goal percentage of .480, and a free throw percentage of .747.
Baynes played at the National Collegiate Athletic Association level with Washington State University from 2005 to 2009. Just like Fred VanVleet, Baynes was undrafted. Before joining the Spurs in 2013, Baynes played professional basketball in Lithuania, Germany, Greece, and Slovenia.