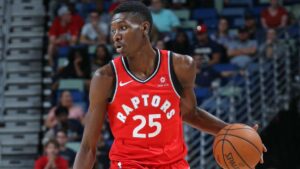 According to Rogers Sportsnet on Sunday, the Toronto Raptors re-signed center Chris Boucher of Montreal, Quebec to a two-year contract worth $13.5 million. The Raptors will be needing Boucher's presence in the paint this season more than ever. That is because Toronto got smaller in the offseason, as they lost their two big men–7'0″ 235-pound center Serge Ibaka to the Los Angeles Clippers, and 6'11", 255-pound center Marc Gasol to the Los Angeles Lakers, in NBA free agency.
Boucher is 6'9″, but is significantly lighter than Ibaka and Gasol, as he only weighs 200 pounds. This past season, he averaged 6.6 points per game, and 4.5 rebounds per game. Boucher also had a field goal percentage of .472, three-point percentage of .322, and a free-throw percentage of .784.
On August 10, 2020, Boucher had the best game of his NBA career in the Walt Disney World bubble in Florida. He scored a team-high 25 points off the bench in a 114-106 win over the Milwaukee Bucks.
During the 2019 NBA Playoffs, the year the Raptors won the NBA Finals, Boucher did not see much playing time. However, he did play two games for the Raptors against the Bucks in the 2019 Eastern Conference Finals. Boucher then played in seven of the Raptors' 11 playoff games in 2020.
Not many might know that Boucher initially started his NBA career with the Golden State Warriors. During the 2017-18 NBA regular season, he played in one game for Golden State and had one defensive rebound in a 117-106 Warriors win over the Los Angeles Lakers on March 14, 2018. Even though the Warriors won the 2018 NBA Finals, Boucher did not play enough for Golden State that season, and did not get a championship ring. Boucher was put on waivers by the Warriors on June 22, 2018, and signed with the Raptors on July 20, 2018.