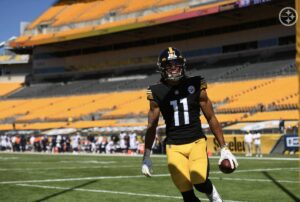 The start of Chase Claypool's National Football League career continues to be magical. On Sunday, the native of Abbotsford, British Columbia, became the first wide receiver in National Football League history to record 10 touchdowns in his first 10 NFL games.
Claypool made history for the Pittsburgh Steelers in their 27-3 rout over the Jacksonville Jaguars in northern Florida. He caught a 31-yard touchdown pass from Steelers quarterback Ben Roethlisberger in the second quarter. Prior to the touchdown pass, the Steelers and Jaguars were tied at three points apiece. After the Claypool touchdown, the Steelers never looked back, and recorded two subsequent touchdowns and a field goal.
Claypool finished the game with four catches for 59 yards and one touchdown. During the 2020 NFL season, Claypool has 39 catches for 559 yards and eight touchdowns receiving. He also has nine rushes for 22 yards, and two more touchdowns on the ground.
The Steelers improved to a record of 10 wins and zero losses, and remain the only undefeated team in the NFL. On Thursday night, they will try to improve to 11-0 when they face their AFC North Division rival, the Baltimore Ravens. Currently, Baltimore has a record of six wins and four losses. This game will be definitely the best of the three on American Thanksgiving.