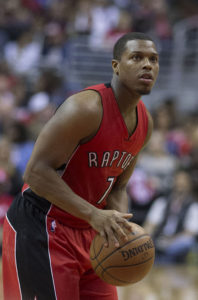 The Toronto Raptors are having one of their finest seasons in franchise history in the National Basketball Association. At 55-20, they lead the Eastern Conference by three and a half games over the second place Boston Celtics. They also have the second best record in the NBA as they only trail the red hot Houston Rockets who are at 61-14 and have won 10 straight.
However the Raptors have beaten the Rockets twice this season–129-113 in Houston on November 14 and 108-105 in Toronto on March 9. Even though the Raptors beat the Rockets by 16 points in November, it should be noted that the Rockets did not have their star point guard Chris Paul in the lineup, who was out with a knee injury.
Speaking of point guards, Raptors point guard Kyle Lowry of Philadelphia, Pennsylvania is having an outstanding 2018 season of his own. On Friday, in the Raptors 116-112 win over the Brooklyn Nets, Lowry made his 213th three-point shot of the season. That set the Raptors record for most three-pointers made in a season and broke his own record of 212 three point shots made set in 2015-16.
Since Friday, Lowry extended his Raptors franchise record to 221 three-point shots made. In the Raptors 114-110 win over the Denver Nuggets at the Air Canada Centre in Toronto on Tuesday, Lowry made three more baskets from beyond the arc. If the Raptors are going to win their first NBA Finals in franchise history, it will be a former Houston Rocket (Kyle Lowry) that must have a fine next couple of months.