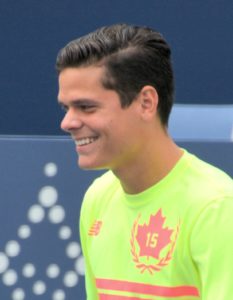 Milos Raonic of Thornhill, Ontario has reached the quarterfinals of an ATP Masters 1000 Series quarterfinal for the second time in the month of March. On Wednesday, he will try to reach the semifinals of an ATP Masters 1000 Series event for the second time this month as well.
On Tuesday, Raonic overpowered Jeremy Chardy of France 6-3, 6-4 in straight sets in the round of 16 at the ATP Masters 1000 Series event in Miami. Raonic got an early break on the grandstand court in the first set and a late break in the second set.
Once again it was Raonic's serve that was the strength to his game. He had 12 aces, a first serve percentage of 63%, and did not allow Chardy to have a break point opportunity.
Raonic will be the only Canadian in the quarterfinals. On Tuesday, Denis Shapovalov of Toronto, Ontario lost in three tough sets to Borna Coric of Croatia, 7-6, 4-6, 6-4. It was the second time in 2018 that Shapovalov lost to Coric as he also lost to him in the Davis Cup in Croatia in early February.
Raonic's opponent on Wednesday will be former U.S. Open champion Juan Martin Del Potro of Argentina. Del Potro completely overpowered Raonic in the semifinals of the 2018 ATP Masters 1000 series event in Indian Wells by beating him 6-2, 6-3 en route to his first ATP Masters 1000 Series tournament victory of his career. In the final in southern California, Del Potro knocked off the legendary Roger Federer of Switzerland 6-4, 6-7, 7-6 in three great sets.
Head-to-head Raonic and Del Potro are 2-2 in four career meetings. Raonic beat Del Potro in the third round of the 2013 Rogers Cup 7-5, 6-4 in Montreal and also beat Del Potro in the semifinals in Delray Beach, Florida in 2017 by a score of 6-3, 7-6. In addition to his win over Raonic in Indian Wells, Del Potro beat Raonic in the final of Tokyo in 2013, 7-6, 7-5.