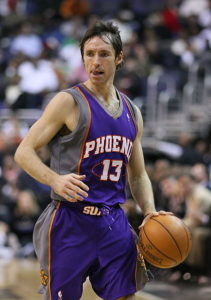 Steve Nash is going to be inducted into the Naismith Memorial Basketball Hall of Fame in 2018. Considered as the greatest Canadian basketball player of all time, Nash, who was raised in Victoria, British Columbia, was the National Basketball Association's most valuable player in 2005 and 2006 while with the Phoenix Suns.
Nash was amazing in two different areas in basketball. He was an amazing playmaker and an extremely accurate free throw shooter. His .904 career free throw shooting was the best ever. Twice Nash led the NBA in free throw percentage (.938 in 2009-10 and .921 in 2005-06 with Phoenix) and six times Nash led the NBA in assists.
An eight-time NBA All-Star, Nash represented the Dallas Mavericks twice in the NBA All-Star Game (2002 and 2003) and six times with the Suns (2005, 2006, 2007, 2008, 2010 and 2012). In addition to playing with Dallas and Phoenix, Nash ended his NBA career with the Los Angeles Lakers for the 2012-13 season.
In international basketball, Nash represented Canada at the 2000 Olympic Games in Sydney. In seven games, Canada had a record of five wins and two losses as Canada advanced to the quarterfinals before losing 68-63 to France. Nash's best game in the Olympic tournament came in a 83-75 win over Serbia and Montenegro where Nash notched a game high 26 points.
Nash will join a hall of fame class that will include Americans Grant Hill, Jason Kidd and Maurice Cheeks. Hill also has a Canadian connection because he is married to Canadian singer Tamia Hill of Windsor, Ontario.