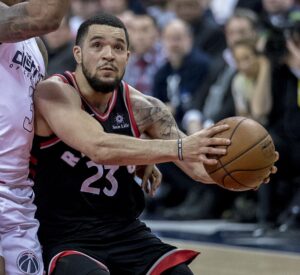 According to Tim Bontemps of ESPN, the Toronto Raptors have made their guard Fred VanVleet of Rockford, Illinois the highest paid undrafted player in National Basketball Association history. On Saturday, VanVleet signed a four-year deal worth $85 million.
VanVleet passes Wesley Matthews of the Dallas Mavericks, who signed a four-year deal worth $70.1 million five years ago. VanVleet will now earn $21.25 million annually. Unfortunately for Raptors fans, by re-signing VanVleet to a large contract, the Raptors missed out in also coming to terms with centers Marc Gasol, and Serge Ibaka. As a result, the team is now known throughout the NBA as relatively small as the regular season is one month away.
VanVleet has spent the last four seasons with the Raptors. In 2019-20, he averaged career-highs in points per game (17.6), assists per game (6.6), rebounds per game (3.8), steals per game (1.9), and free throw percentage (.848). VanVleet also had a field goal percentage of .413, and a three-point percentage of .390.
In the Walt Disney World bubble during the 2020 NBA Playoffs, VanVleet averaged 19.6 points per game, as the Raptors advanced to the Eastern Conference semifinals before losing to the Boston Celtics in seven games. A year earlier in the postseason, VanVleet averaged eight points per game in 24 playoff games as the Raptors won their first NBA championship in franchise history. VanVleet even received a vote from the voting committee for the NBA Finals Most Valuable Player Award.