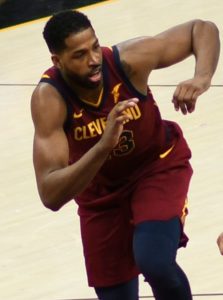 According to ESPN on Saturday, the Boston Celtics have signed center Tristan Thompson of Toronto, Ontario from the Cleveland Cavaliers to a two-year contract worth $19 million. Since being selected in the first round, fourth overall, in the 2011 National Basketball Association Draft, Thompson has played his entire career with Cleveland.
In 2019-20, Thompson averaged a career-high 12 points per game. He also saw career highs in assists per game (2.1), and three-point percentage (.391). In fact, Thompson made his first nine three-pointers of his career this past season. Three of those three-pointers came in a 127-105 Cavaliers win over the Atlanta Hawks on February 12.
This past season, Thompson also had a field goal percentage of .512, free throw percentage of .615, and 10.1 rebounds per game. Interestingly, he was the only free agent to sign with a different team on the weekend that averaged a double double.
Thompson also was an important part of the Cavaliers team that won the 2016 NBA Finals, the only time ever that Cleveland has won the NBA Finals. During the 2016 NBA Finals, Thompson reached the double digits in scoring in four of the seven games in the series. In game six of the series, a 115-101 Cavaliers win over the Golden State Warriors, Thompson recorded 15 points.
In Boston this upcoming season, it will be interesting to see if Thompson is the starting center or if they will go with Daniel Theis. It is also interesting that the Raptors did not make more of a push for Thompson when there was a need at the center position for them with the loss of Marc Gasol to the Los Angeles Lakers and Serge Ibaka to the Los Angeles Clippers.