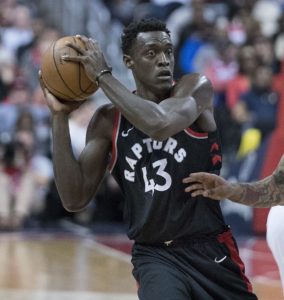 The Toronto Raptors set the record for the longest single season win streak by a Canadian professional sports franchise on Monday according to the Lethbridge News Now. On Monday, the Raptors extended their remarkable winning streak to 15 games in a 137-126 win over the Minnesota Timberwolves at Scotiabank Arena in Toronto, Ontario. The old record belonged to the Calgary Stampeders, who won 14 straight games during the 2016 Canadian Football League season.
In the Raptors win over Minnesota, all five starters reached double digits in scoring. Pascal Siakam had 34 points, Kyle Lowry scored 27 points, OG Anunoby scored 25 points, Rondae Hollis-Jefferson scored 21 points and Fred VanVleet scored 16 points. Anunoby and Lowry each had double doubles as Anunoby had 12 rebounds and Lowry had 11 assists. VanVleet led the Raptors in plus/minus with a +21.
Toronto was actually down at the half, as they trailed Minnesota 75-74 after 24 minutes. The Timberwolves had an excellent second quarter as they outscored the Raptors 39-34. However it was the third quarter where the Raptors were dominant as they outscored the Timberwolves 32-19.
The Raptors won despite the absence of their two big men–Serge Ibaka and Marc Gasol. Ibaka was out with the flu and Gasol was out with a hamstring problem.
The Raptors are at 40 wins and 14 losses, and have the third best record in the National Basketball Association. They only trail the Milwaukee Bucks (46 wins and seven losses) and the Los Angeles Lakers (40 wins and 12 losses).