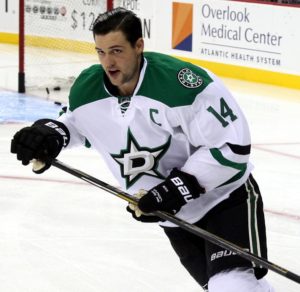 Canadian Olympic gold medalist Jamie Benn of Victoria, British Columbia registered his sixth career National Hockey League hat trick on Tuesday as the Dallas Stars defeated the Carolina Hurricanes 4-1 from American Airlines Center in Dallas, Texas. Benn won the gold medal for Canada in men's hockey at the 2014 Olympic Winter Games in Sochi.
On Tuesday, Benn scored the Stars' first, third and fourth goals of the game. Benn opened the scoring from Stephen Johns and Miro Heiskanen at 7:54 of the first period. He then put the Stars up 3-1 with a power play goal from Tyler Seguin of Brampton, Ontario with 4:54 left in the second period. Benn's final goal came with 1:19 left in the game into an empty net.
It is interesting that Benn scored his three goals three different ways. He scored even strength, on the power play and into an empty net.
In 56 games this season, Benn has 18 goals, 13 assists and 31 points. He is a -6 with 31 penalty minutes, 12 power play points, 140 shots on goal, 217 faceoff wins, 50 blocked shots, 143 hits, 40 takeaways and 47 giveaways.
This was Benn's first hat trick this season. Remarkably the Stars have scored exactly four goals in all of Benn's six career hat tricks. Benn had his other five NHL career hat tricks in a 4-1 Stars win over the St. Louis Blues on February 17, 2015, in a 4-1 Stars win over the Nashville Predators on April 11, 2015, in a 4-2 Stars win over the San Jose Sharks on April 3, 2018, in a 4-2 Stars win over the Los Angeles Kings on April 7, 2018 and in a 4-1 Stars win over the Blues on March 2, 2019.
The Stars are currently in third place in the Central Division. They have a record of 32 wins, 19 regulation losses and five losses in extra time for 69 points.