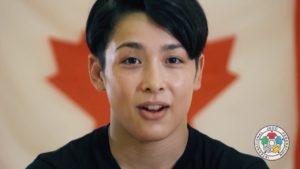 Christa Deguchi of Lethbridge, Alberta won her fourth career International Judo Federation grand slam gold medal on Saturday. Deguchi placed first at the 2020 Paris Grand Slam.It was one of two medals won by Canadians at the Paris Grand Slam on the weekend. Canadian Olympic bronze medalist Antoine Valois-Fortier of Quebec City, Quebec, won the bronze medal in the men's 81 kilogram division.
In fact, it was the third straight year that Deguchi won the gold medal in the women's 57 kilogram division at the Paris Grand Slam. She also won gold in Paris in 2018 and 2019. Deguchi's other gold medal in an IJF grand slam event came in Ekaterinburg, Russia in 2019.
At the 2020 Paris Grand Slam, Deguchi got a bye to the second round in Pool A. She then beat Loredana Ohai of Romania, Sanne Verhagen of the Netherlands and Timna Nelson Levy of Israel. Deguchi then beat Sarah Leonie Cysique of France in the semifinal and Sumiya Dorjsuren of Mongolia in the final. Dorjsuren won the silver medal, while Momo Tamaoki of Japan and Nora Gjakova of Kosovo each won the bronze medal.
Valois-Fortier was in Pool B, where he beat Emmanuel Lucenti of Argentina, Matus Milichovsky of Slovakia and Nicon Zaborosciuc of Macedonia, before losing to Sotara Fujiwara of Japan. Then in the repechage, Valois-Fortier beat Sagi Muki of Israel and Anri Egutidze of Portugal in the bronze medal match. Matthias Casse of Belgium won the gold medal, Sharofiddin Boltaboev of Uzbekistan won the silver medal and Fujiwara won the other bronze medal.
Valois-Fortier won his Olympic bronze medal at the 2012 Olympic Games in London.The medals for Valois-Fortier and Deguchi will give them confidence as they prepare for the 2020 Olympic Games in Tokyo.