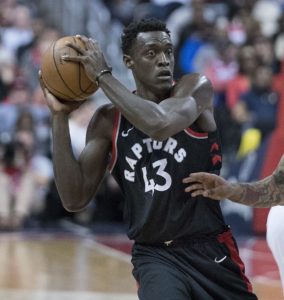 The Toronto Raptors are three wins away from winning their first NBA Finals in franchise history. On Thursday night at the Scotiabank Arena in Toronto, Ontario, Pascal Siakam led the Raptors with 32 points in a 118-109 win over the Golden State Warriors.
Siakam was one of five Raptors players to reach double digits in scoring. The others were Kawhi Leonard (23 points), Marc Gasol (20 points), Fred Van Vleet (15 points) and Danny Green (11 points). Leonard and Siakam each led the Raptors with eight rebounds and Kyle Lowry led the Raptors with nine assists.
VanVleet was once again productive off the bench. He co-led the Raptors in plus/minus with a +11. Other Raptors players with a +11 were Lowry and Leonard. Remarkably after an abysmal NBA playoff, VanVleet has turned things around in a big way. In his first 15 games of the 2019 postseason, VanVleet was a poor -41, but since then has been a +76 in his last four games. So in 19 NBA postseason games, VanVleet has been a very respectable +35.
But, let's face it. Game one was necessary for the Raptors. Possibly even mandatory. Not just because the game was at home, but because the Warriors were without their biggest impact player in Kevin Durant. Game two is Sunday night again in Toronto, and there are now reports that the Warriors will not have Durant tomorrow night either with a calf injury.