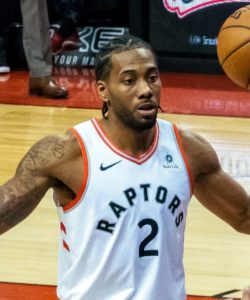 The Toronto Raptors are one win away from winning their first NBA Finals championship in franchise history. On Friday evening from Oracle Arena in Oakland, California, Kawhi Leonard scored 36 points as the Raptors beat the Golden State Warriors 105-92. With the win, the Raptors now lead the Warriors three games to one in the best out of seven series with game five at the Scotiabank Arena on Monday.
Leonard, who recorded a double double as he also had 12 rebounds, was one of four Raptors to reach double digits in scoring. Serge Ibaka had a terrific game for the Raptors as he had 20 points in only 22 minutes. Meanwhile, Pascal Siakam had 19 points and Kyle Lowry had 10 points. Lowry led the Raptors with seven assists and Leonard had an impressive four steals to lead Toronto.
The Raptors only scored 17 points in the first quarter, but had stingy defense and limited the Warriors to only 23 points. In the second quarter, the Raptors outscored the Warriors 25-23 to pull the gap to four points at the half as Toronto only trailed 46-42.
In the third quarter, the Raptors dominated the Warriors like the Warriors dominated the Raptors in game two. As a team, Toronto scored 37 points (of which 15 points came off of five shots made from beyond the three point line), and limited Golden State to 21. Then in the fourth quarter, the teams played relatively even as Toronto outscored Golden State 26-25.