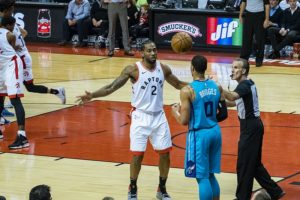 The Toronto Raptors are in the NBA Finals for the first time in franchise history. On Saturday night at the Scotiabank Centre in Toronto, Ontario, Kawhi Leonard had a double double (27 points and 17 rebounds) as the Raptors defeated the Milwaukee Bucks 100-94 to win the Eastern Conference Finals four games to two.
Leonard was one of four Raptors players to reach double digits in points. The others were Pascal Siakam (18 points), Kyle Lowry (17 points) and Fred VanVleet (14 points). Lowry also led the Raptors with eight assists.
One of Lowry's assists was of the highlight reel variety. In the fourth quarter, he came away with an impressive steal, delivered a spectacular pass to Leonard, who had a slam dunk.
The Raptors deserve a significant amount of credit for not giving up. With 2:18 left in the third quarter, they were down 76-61 after Ersan Ilyasova of the Bucks had made both of his free throws. Then the Raptors took over. Check that, in the next two minutes, Leonard took over. He scored eight points in the next two minutes and passed the basketball to Serge Ibaka for another field goal. The 15 point lead was closed to just five points heading into the final stanza.
Then early in the fourth quarter, the Raptors rested Leonard for a brief time. That is when the Raptors supporting cast showcased their skills. In a period of four minutes, the Raptors outscored the Bucks 12-2 as they got a layup from VanVleet, three point shot from Norman Powell, dunk from Ibaka and then field goals from Siakam and VanVleet. The Raptors will now host the Golden State Warriors in Game 1 of the NBA Finals on Thursday.