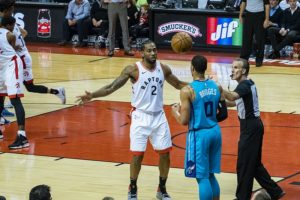 With no Canadian team left in the 2019 National Hockey League Stanley Cup Playoffs, one could argue it is time for the Canadian hockey and sports fan to focus their undivided attention on basketball, and the Toronto Raptors. On Tuesday, the Raptors defeated the Orlando Magic 115-96 to win the Eastern Conference quarterfinal series four games to one. 
Five Raptors reached double digits in scoring as Kawhi Leonard had 27 points, Pascal Siakam had 24 points, Kyle Lowry had 14 points, Norman Powell scored 11 points and Serge Ibaka had 10 points. Fred VanVleet led the Raptors with 10 assists and Marc Gasol led the Raptors with nine rebounds.
What was most impressive about this Raptors squad was their fast start. They got off to a 35-19 lead after the first quarter and actually were leading the Magic by 24 points with 2:36 left in the opening stanza. Of those 35 points, the Raptors scored five three-pointers as Lowry had two three-pointers and Gasol, Siakam and Leonard each had one.
One impressive area in the four Raptors playoff wins has been their defense. In the four Raptors wins, they have given up less than 100 points.
The Raptors will now play the Philadelphia 76ers in the Eastern Conference semifinals. Philadelphia eliminated the Brooklyn Nets in five games. The other Eastern Conference semifinal has the Boston Celtics playing the Milwaukee Bucks.
In the Western Conference, Jamal Murray of Kitchener, Ontario led the Denver Nuggets in scoring for the second time in the 2019 NBA playoffs. After leading the team with 24 points in game two of the series on April 16 in a 114-105 win over the San Antonio Spurs, Murray scored a Nuggets-leading 23 points in a 108-90 win over the Spurs as Denver took a three games to two series lead. Game six of the series is on Thursday.