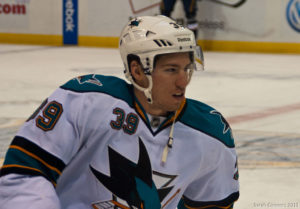 Logan Couture of Guelph, Ontario has helped the San Jose Sharks advance to the second round of the 2019 Stanley Cup Playoffs. On Tuesday night in San Jose, California, Couture scored twice as the Sharks defeated the Vegas Golden Knights 5-4 in overtime in one of the most remarkable game sevens ever played in National Hockey League history. 
With just over 10 minutes left in the hockey game, the Sharks were trailing the Golden Knights 3-0. That is when Cody Eakin took a five minute major penalty for cross checking and put the Sharks on a full five minute power play. On that power play, the Sharks went on to score four goals in a span of four minutes and one second.
Couture would score two of those power play goals. He scored at 9:20 from Kevin Labanc and Tomas Hertl to give the Sharks their first goal of the game and then at 12:53 from Brent Burns of Barrie, Ontario and Labanc at 12:53 of the third period to tie the game at three goals apiece. With the win, the Sharks will now play the Colorado Avalanche in the second round starting Friday.
In other action Tuesday, it was confirmed that no Canadian team will win the Stanley Cup in 2019. That is because the Toronto Maple Leafs lost 5-1 to the Boston Bruins in game seven of their first round playoff series. The last Canadian team to win the Stanley Cup were the Montreal Canadiens in 1993. The Bruins meanwhile will now play the Columbus Blue Jackets in the second round.