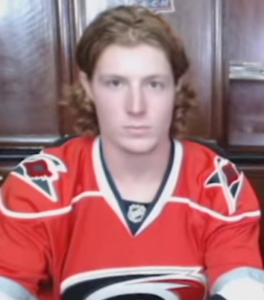 Brock McGinn of Fergus, Ontario has helped the Carolina Hurricanes reach the second round of the 2019 Stanley Cup playoffs. On Wednesday, McGinn had a multipoint game and scored the game winning goal at 11:05 of double overtime as the Hurricanes beat the Washington Capitals 4-3 in game seven of the first round Eastern Conference series from Capital One Arena in Washington, D.C.
McGinn recorded his first point of the game at 16:37 of the second period with an assist on a goal by Teuvo Teravainen. At the time the Hurricanes pulled within one goal, but still trailed the Capitals 3-2. Jordan Staal of Thunder Bay, Ontario then tied the game at three goals apiece with a goal at 2:56 of the third period. Then at 11:05 of the second overtime, McGinn tipped in a shot by Justin Williams of Cobourg, Ontario from the side boards that gave the Hurricanes their first series win since beating the Boston Bruins in the 2009 Eastern Conference semifinals.
In a remarkable Stanley Cup Playoffs to date, for the first time ever all division winners were eliminated in the first round. The Capitals, who won the Metropolitan Division, join the Calgary Flames, Nashville Predators and the Tampa Bay Lightning. The Hurricanes will now play the New York Islanders in the Eastern Conference semifinal. which begins Friday night.