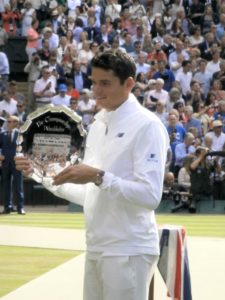 Milos Raonic of Thornhill, Ontario delivered the second fastest ace in the history of Wimbledon on Wednesday. Raonic had a serve of 147 miles per hour in his 7-6, 7-6, 7-6 second round win over John Millman of Australia.
Raonic's serve was only one mile per hour off the record set by Taylor Dent of the United States. Dent had a serve of 148 miles per hour in 2010. However, Dent followed the ace with a double fault in a second round loss to Novak Djokovic of Serbia. Djokovic beat Dent in straight sets 7-6, 6-1, 6-4. That year Djokovic went on to the semifinals of Wimbledon before losing 6-3, 7-6, 6-3 to Tomas Berdych of the Czech Republic. Djokovic would go on to win three Wimbledons in 2011, 2014 and 2015–the first over Rafael Nadal and the next two over Roger Federer. Dent meanwhile had his best Wimbledon performance in 2005 when he reached the fourth round.
As for Raonic, he was the first player in the men's draw to advance to the third round. On a day when many men's matches were postponed due to rain, some extra rest could be in Raonic's favour. He is set to play Dennis Novak of Austria on Friday. Novak eliminated Canadian Peter Polansky in the first round on Monday before upsetting the 17th seed Lucas Pouille of France in the second round on Wednesday. One would think Raonic gets a favourable draw, but Polansky and Pouille thought the same thing heading into their matches.