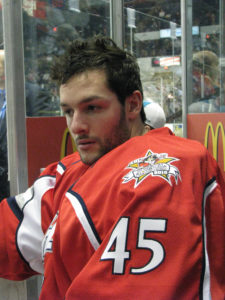 The Detroit Red Wings signed goaltender Jonathan Bernier of Laval, Quebec from the Colorado Avalanche to a three year contract on Sunday. Bernier is set to make $3 million each through 2020-21 for a total of $9 million.
The Red Wings become Bernier's fifth National Hockey League team. In addition to the Avalanche, Bernier has played for the Los Angeles Kings, Toronto Maple Leafs and Anaheim Ducks.
Last season with Colorado, Bernier played 37 games with the Avalanche. He had a record of 19 wins, 13 regulation losses, three losses in extra time, a goals against average of 2.85, save percentage of .913 and two shutouts.
It appears that Bernier will share goaltending duties in Detroit next season with veteran Jimmy Howard. Jared Coreau of Perth, Ontario is no longer in the Red Wings goaltending mix after signing a one year contract worth $650,000 with the Anaheim Ducks.
It should be noted that Bernier and Howard had the exact same goals against average last season of 2.85. Bernier meanwhile had a save percentage of .003 higher than Howard.
One area where the Red Wings will hope Bernier improves is his postseason statistics. In five playoff games over the last two years in Colorado and Anaheim, Bernier has a record of two wins and three losses with a goals against average over three and a save percentage under .900. On the international stage, Bernier won a gold medal for Canada at the 2008 World Junior Hockey Championship in Pardubice, Czech Republic.