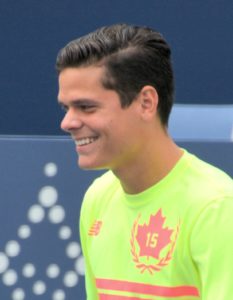 Milos Raonic of Thornhill, Ontario and Denis Shapovalov of Toronto, Ontario are in the third round of the 2018 U.S. Open.On Wednesday, Raonic beat Gilles Simon of France in straight sets 6-3, 6-4, 6-4, while Shapovalov needed five sets to beat Andreas Seppi of Italy, 6-4, 4-6, 5-7, 7-6, 6-4.
Raonic, who is seeded 25th, is now 5-1 all-time against Simon. Three of those five wins have come at majors as Raonic was victorious in the third round of the 2014 French Open and the 2017 Australian Open.
In Raonic's win, Milos was able to record a break in each of the three sets. Raonic's serve was also strong as he recorded 17 aces compared to Simon's zero. Another key statistic is that Raonic was able to win 68% of his net point opportunities. If Raonic is able to successfully come to the net and win points, he could be very dangerous as the tournament proceeds,
Shapovalov, the 28th seed, meanwhile won a marathon match and came back to beat Seppi after initially trailing him two sets to one. Shapovalov will need to minimize some of the mistakes in order for him to proceed, On Wednesday, he had 76 unforced errors compared to Seppi's 52.
In the third round, both Shapovalov and Raonic have tough opponents on Friday. Shapovalov has reigning U.S. Open and Wimbledon finalist Kevin Anderson of South Africa, the fifth seed, while Raonic has three-time grand slam champion (2014 Australian Open, 2015 French Open and 2016 U.S. Open) Stanislas Wawrinka of Switzerland.