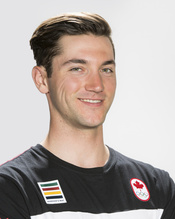 Canadian Olympian Vincent De Haitre of Ottawa, Ontario has announced he is making the switch from speed skating to cycling.In an announcement made this week, De Haitre hopes to represent Canada at the 2020 Olympic Games in Tokyo. 
According to Patrick Godbout, the communications and media relations manager of Speed Skating Canada in an e-mail to the Canadian Sport Scene, De Haitre's focus at the moment will be cycling, but will consider a move back to speed skating in August of 2020, following the 2020 Olympic Games.
De Haitre's focus will be track cycling. He will try to follow in the footsteps of Canadian women Sylvia Burka and Clara Hughes, both of Winnipeg, Manitoba, who have represented Canada on the international stage in cycling and speed skating. However it should be noted that Burka was a track cyclist, while Hughes was a road cyclist.
De Haitre's best speed skating accomplishment was winning the silver medal at the 2017 World Speed Skating Championships in Gangneung. De Haitre placed second in the men's 1000 metres, behind Kjeld Nuis of the Netherlands. When it comes to cycling, De Haitre has performed at a high level at the Canadian National Cycling Championship, and once beat future Canadian Olympian Zachary Bell of Whitehorse, Yukon in the men's 1 kilometre time trial in 2013 in Dieppe, New Brunswick.