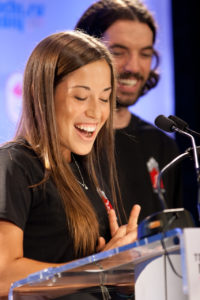 Canadian Olympic silver medalist Valerie Maltais of La Baie, Quebec has decided to make the switch from short track speed skating to long track speed skating.In an announcement made on Tuesday, Maltais becomes the second high performance Canadian speed skater the last few years to make the change as she is following in the footsteps of Oliver Jean of Lachenaie, Quebec.
It will be interesting to see in what discipline Maltais chooses to focus on in long track speed skating. The events where the transition from short track to long track would be the easiest are the team pursuit and the mass start.
However there is a possibility that Maltais will compete in the individual events. That is because she is reportedly fascinated by skating against the clock. In order to make the switch, Maltais will be moving from Montreal to Calgary.
Maltais won a silver medal for Canada in the women's 3000m relay at the 2014 Olympic Winter Games in Sochi. She teamed up with Marie-Eve Drolet of Chicoutimi, Quebec, Jessica Hewitt of Langley, British Columbia and Marianne St-Gelais of Roberval, Quebec. In addition to her Olympic silver, Maltais has won nine medals (four silver medals and five bronze medals) at the World Short Track Speed Skating Championships.