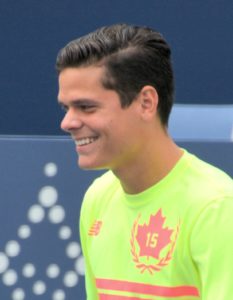 Milos Raonic of Thornhill, Ontario and Denis Shapovalov of Toronto, Ontario have each qualified for the third round of the 2019 Australian Open. On Thursday, Raonic, the 16th seed, beat three-time grand slam champion Stanislas Wawrinka of Switzerland 6-7, 7-6, 7-6, 7-6 and Shapovalov, the 25th seed, beat Taro Daniel of Japan 6-3, 7-6, 6-3.
It was Raonic's third straight win over Wawrinka at a major. He previously beat Stan the Man in the fourth round of the 2016 Australian Open 6-4, 6-3, 5-7, 4-6, 6-3 and in the third round of the 2018 U.S. Open, 7-6, 6-4, 6-3.
In Raonic's win over Wawrinka on Thursday, Raonic had 39 aces and 84 winners compared to only 28 aces and 66 winners for Wawrinka. Each player broke each other's serve twice. However it was the tiebreak where Raonic came up big. After losing 7-4 in the first set tiebreak, he won the second set tiebreak 8-6, the third set tiebreak 13-11 and the fourth set tiebreak 7-5. Raonic will now face Pierre-Hugues Herbert of France in the third round on Saturday.
In Shapovalov's win over Daniel on Thursday, it was complete domination by Shapovalov in just over two hours. Shapovalov had 43 winners in the straight sets win. However the third round opponent will be much more difficult for Shapovalov than Raonic. That is because he has to face the number one seed, and tournament favourite, Novak Djokovic of Serbia, This will be the first meeting between the two players.