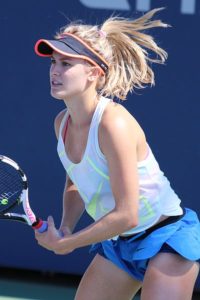 All four Canadians advanced to the second round in singles at the 2019 Australian Open tennis tournament in Melbourne, Australia on Tuesday. Milos Raonic of Thornhill, Ontario and Denis Shapovalov of Toronto, Ontario advanced on the men's side, while Eugenie Bouchard of Montreal, Quebec and Bianca Andreescu of Mississauga, Ontario advanced on the women's side.
Raonic and Shapovalov won their matches in straight sets. Raonic, the 16th seed, beat Australian Nick Kyrgios 6-4, 7-6, 6-4, and Shapovalov beat Pablo Andujar of Spain 6-2, 6-3, 7-6. In Raonic's win, he had a remarkable 30 aces in what could have been considered a road match as the Australian crowd was clearly behind Kyrgios. Raonic was very effective at the net as he won 25 of a possible 34 points for 74% overall. He also kept his unforced error total down as he only had eight compared to 14 for Kyrgios.
Shapovalov meanwhile had 15 aces compared to only one for Andujar. There is no doubt that Shapovalov dictated the entire match by winning with ease. There was a time in the third set when Shapovalov showed some vulnerability as he was broken by Andujar when he tried to close out the match. However in the tiebreak, Shapovalov dominated, winning 7-3.
One could argue that the most impressive Canadian tennis performance on Tuesday came from Eugenie Bouchard. The former Australian Open semifinalist beat Shuai Peng of China (a former U.S. Open semifinalist) convincingly, 6-2, 6-1. In winning 12 of the 15 games, it was quite possibly one of the most dominating performances a Canadian has ever had in a grand slam tennis match.
Meanwhile, it was the first grand slam singles tennis victory for Andreescu. In three tough sets, she beat Whitney Osuigwe of the United States 7-6, 6-7, 6-3. Andreescu was dealing with a leg ailment throughout the latter part of the match that might need to be monitored as the tournament progresses.
The second round matches for the Canadian players will be difficult. Raonic faces three-time grand slam champion Stanislas Wawrinka of Switzerland. Bouchard faces 23-time grand slam champion and 16th ranked Serena Williams of the United States. Andreescu faces 13th ranked and 2018 U.S. Open semifinalist Anastasija Sevastova of Latvia, and Shapovalov faces Taro Daniel of Japan.