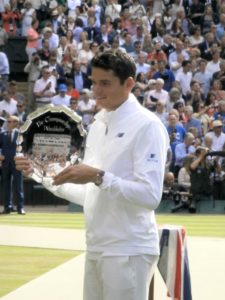 Milos Raonic is in the quarterfinals of Wimbledon in 2018. On Monday, Raonic beat American Mackenzie McDonald 6-3, 6-4, 6-7, 6-2 in the fourth round and will now play another American in John Isner in the quarterfinals on Wednesday.
In Raonic's win over McDonald, Raonic had a marvelous serve. He had 37 aces compared to McDonald's five. In the tournament to date, Raonic has 117 aces. The only player with more aces is Isner with 135 aces.
Despite struggling at times coming to the net, Raonic still had 42 net points won, compared to 29 for McDonald. The serve and volleying approach seemed to be working well for Raonic, even though the proactive strategy led to some unforced errors.
Seeded 13th in the world, Raonic will have to do better in the tiebreak against Isner than McDonald. Raonic struggled in the latter part of the third set and into the third set tiebreak against McDonald. There will be no margin of error during the tiebreak against Isner, whose strength is definitely his serve.
The other men's quarterfinal matchups on Wednesday have Juan Martin Del Potro of Argentina facing defending French Open and United States Open champion Rafael Nadal of Spain, defending Wimbledon champion and Australian Open champion Roger Federer of Switzerland facing Kevin Anderson of South Africa and Novak Djokovic of Serbia is up against Kei Nishikori of Japan. The women's semifinal matches have Jelena Ostapenko of Latvia against Angelique Kerber of Germany and Julia Gorges of Germany against Serena Williams of the United States.