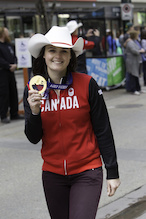 Canadian women won three World Cup medals in two women's ski cross races this past weekend in Idre Fjall, Sweden. Canadian Olympic gold medalist Marielle Thompson of Vancouver, British Columbia won the silver medal on Saturday, while Canadian Olympic silver medalist Brittany Phelan of Sainte-Agathe-des-Monts, Quebec and Canadian Olympic gold and silver medalist Kelsey Serwa of Kelowna, British Columbia won the silver medal and bronze medals respectively also on Sunday.
In Saturday's race, Thompson won her quarterfinal heat over Phelan, Canadian India Sherret of Cranbrook, British Columbia, and Anastasia Chirtcova of Russia. She then finished in second place in her semifinal heat behind Fanny Smith of Switzerland. In the women's big final, Thompson finished behind gold medalist Heidi Zacher of Switzerland, and ahead of Smith, who won the bronze medal, and Lisa Andersson of Sweden, who finished in fourth place.
In Sunday's race, three Canadians reached the big final as Thompson, Phelan and Serwa joined Smith in the final four. Smith won gold, Phelan won silver, Serwa won bronze and Thompson was fourth. Phelan finished second in the quarterfinal behind Sami Kennedy-Sim of Australia, while Serwa won her quarterfinal heat. Phelan and Serwa then finished first and second respectively in their semifinal heat to qualify for the final.
In the women's ski cross standings, Thompson leads with 795 points. Phelan is fourth with 460 points and Serwa is eighth with 350 points.
Thompson and Serwa won the gold medal and silver medals respectively in women's ski cross at the 2014 Olympic Winter Games in Sochi. Serwa and Phelan won the gold and silver medals respectively in women's ski cross at the 2018 Olympic Winter Games in Pyeongchang. The medals will give Thompson, Serwa and Phelan confidence as they prepare for the 2022 Olympic Winter Games in Beijing.