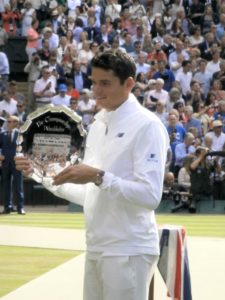 Milos Raonic of Thornhill, Ontario is in the fourth round of Wimbledon for the fourth time in his professional tennis career. On Saturday, Raonic defeated Dennis Novak of Austria 7-6, 4-6, 7-5, 6-2 in a third round match that originally started on Friday but was postponed because of darkness.
Raonic will face American Mackenzie McDonald in the round of 16 on Monday. Currently ranked 103rd in the world, McDonald is a little older than some of the other new tennis players on the scene at 23 years of age. MacDonald had a marvelous NCAA tennis career at UCLA where he won the national singles title in 2016.
Raonic has reached the fourth round of Wimbledon thrice before– in 2014, 2016 and 2017. In 2014, Raonic reached the semifinals before losing to the great Roger Federer of Switzerland. In 2016, Raonic got revenge on Federer with a five set win in the semifinals before losing to Andy Murray of Great Britain in the Wimbledon Final. Then last year, Raonic reached the quarterfinals, before losing to Federer.
In 2018, Raonic could see Federer in the semifinals. Raonic is 3-11 all-time against Federer. Other than his memorable 2016 victory in the Wimbledon semifinals, Raonic beat Federer in the quarterfinals of the Paris Indoor in 2014 and the final of Brisbane in 2016. However before Raonic has the possibility of facing Federer again, he will have to face McDonald for the first time and then either American John Isner or 19 year-old Greek Stefanos Tsitsipas in the quarterfinals. Raonic has no history against McDonald or Tsitsipas and is 1-3 all-time against Isner.