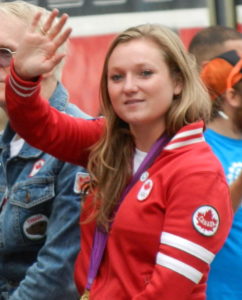 When you think of Canadian gymnasts over the last two decades, you must think of women's trampoline. First, we had Karen Cockburn of Toronto, Ontario, who won the bronze medal at the 2000 Olympic Games in Sydney, and then back-to-back silver medals at the 2004 Olympic Games in Athens, and then the 2008 Olympic Games in Beijing. At the 2012 Olympic Games in London, the Canadian torch when it came to women's trampoline was passed from Cockburn to Rosie MacLennan of Toronto, who won the gold medal. Then MacLennan did the remarkable and defended her Olympic gold medal at the 2016 Olympic Games in Rio de Janeiro.
There is no doubt that injuries have taken its toll on MacLennan. Among the injuries she has suffered have included a concussion, broken ankle, and neck injury. She was still able to come through and win gold at the 2018 World Trampoline Championships in St. Petersburg, and a bronze at the 2019 World Trampoline Championships in Tokyo. MacLennan will be going for her third straight Olympic gold medal on July 29 at 11:50 p.m. MT.
Meanwhile, two more Canadian gymnasts have a chance for medals in artistic gymnastics. Ellie Black of Halifax, Nova Scotia won the silver medal in the women's all-around at the 2017 World Gymnastics Championship in Montreal. She is projected to be competing on July 29 at 4:50 a.m. MT in the women's all-around. Also, Shallon Olsen of Vancouver, British Columbia won the silver medal in the women's vault at the 2018 World Gymnastics Championships in Doha. The women's vault final will take place on August 1 at 2:55 a.m. MT.