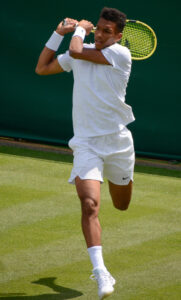 The preparations for Wimbledon are starting this week with prestigious ATP events in Halle, Germany, and London, England. Felix Auger-Aliassime of Montreal, Quebec is at the Halle Open in Germany, while Dennis Shapovalov is at the Queen's Club Championship in London.
On Tuesday, in the first round, Auger-Aliassime had a tough first-round opponent in Hubert Hurkacz of Poland, but Auger-Aliassime came through with a tough 6-3, 7-5 win. Hurkacz made tennis headlines earlier this year when he won the Miami Open for the biggest victory of his career. In the final, Hurkacz defeated Jannik Sinner of Italy, 7-6, 6-4. Hurkacz is currently ranked 17th in the world, while Auger-Aliassime is ranked 21st.
However, the assignment for Auger-Aliassime on Wednesday in the second round will be even tougher. That is when he will face 20-time grand slam champion Roger Federer of Switzerland for the first time in his career. At the Halle Open in Germany, Federer has been dominant. Federer has won the Halle Open 10 times, most recently in 2019, where he beat Belgium's David Goffin, 7-6, 6-1. The only other two players who have won the tournament more than once are 1996 French Open champion and 1999 Australian Open champion Yevgeny Kafelnikov of Russia who has won the Halle Open thrice, and Tommy Haas of Germany, who has won the Halle Open twice.