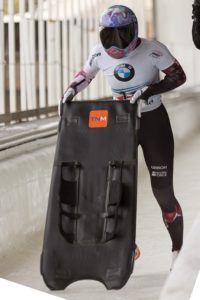 Mirela Rahneva of Ottawa, Ontario won her second career World Cup gold medal in women's skeleton on Friday. Rahneva placed first in an event in St. Moritz, Switzerland.
Interestingly, Rahneva's first World Cup gold medal also came in St. Moritz, as she was on top of the podium on January 20, 2017. In addition to her two World Cup gold medals, Rahneva has also won six World Cup medals as she won silver in Innsbruck, Austria on February 3, 2017, bronze in Lake Placid, New York on December 17, 2016, bronze in Winterberg, Germany on January 15, 2017, and bronze in Innsbruck, Austria on December 15, 2017.
In St. Moritz on Friday, Rahneva had a winning time of 2:17.77. Elena Nikitina of Russia won the silver medal with a time of 2:18.00. Jacqueline Loelling of Germany won the bronze medal with a time of 2:18.63. Rahneva reached the podium by 0.90 seconds over Tina Hermann of Germany, who finished in fourth place with a time of 2:18.67.
Rahneva is now the top Canadian in the World Cup standings and is in sixth place overall with 769 points. Nikitina is the leader with 1062 points. The gold medal for Rahneva will give her confidence as she prepares for the 2022 Olympic Winter Games in Beijing.
Calgary meanwhile will host the final Women's World Cup skeleton race of the season on February 23. Whistler will host the 2019 Women's World Skeleton Championships on March 7.